I'm not saying it's fair, or even possible to try to care about every person or demographic. All I'm begging for is that we at least try not to be so hateful.
OKAY THE FACT THAT 'IMAGES' IS NO LONGER THE SECOND LINK ON GOOGLE IS DRIVING ME UP THE WALL

NO I DON'T WANT TO WATCH VIDEOS

NO I DON'T WANT TO GO SHOPPING

JUST TAKE ME TO THE FRICKING IMAGES

it's like when you have your tabs out of order and you just
Everything about this post is perfect. I am in love with you. You have voiced my thoughts exactly.
DON'T CHANGE A CHARACTER'S PERSONALITY FOR A SHIP

DON'T CHANGE A CHARACTER'S PERSONALITY FOR A SHIP

DON'T CHANGE A CHARACTER'S PERSONALITY FOR A SHIP

DON'T CHANGE A CHARACTER'S PERSONALITY FOR A SHIP

DON'T CHANGE A CHARACTER'S PERSONALITY FOR A SHIP

DON'T CHANGE A CHARACTER'S PERSONALITY FOR A SHIP
How to be ridiculously sexy working out: Tom Hiddleston edition.
Requested by @everydayiztumberling

(soddy quality because too dark…)
That ass is fabulous even in the dark.
Born. Smart. Crazy.
Honestly, I think that sums it up surprisingly well, don't you?
lookingfortheimpalainthetardis:

#what if you're stuck in a vitual world #and this gif is the only window into reality #and you're really the doctor's companion #and you did all these wonderful things together but one day you encountered a monster you couldn't defeat #and just before it killed you #it pulled you into a pocket universe#or a computer #and you've contstructed this reality for yourself #your whole life in this little bubble universe #and this gif #the only look into your real life #is looping in the moment when the doctor lost you forever #and he's reaching out to you #but he's too late #because you're gone #and this virtual life of yours will spin out in the skin of a single moment in reality #and you can't wake up #because you're dead and he's lost another friend (via wellisnthatwizard)

you're grounded.

EVERYONE CAN GO HOME THIS BROKE THE FANDOM. 

This is actually legit. Because, y'know, when you watch Doctor Who, you actually remember the stories the Doctor told you about his former companions and you cry so uncontrollably because deep inside you feel so sorry that he lost another one, you, and because you miss him, and because you miss all these adventures you used to go on. Maybe some of the episodes even are your own adventures but the monster changed your looks so you won't recognize. You could actually be Rose or Donna or Jack. And you'd never know.
This needs more notes ._.

I have two faaaavorite comebacks to cosplay creeps. 

Scenario 1: This guy is interviewing me as Deadpool. He is gesturing to my chest and asks me what makes me better than regular Deadpool. "Because my without my healing factor, I can bleed for 5 days and not die." Insert flabbergasted interviewer.

Scenario 2: I was Poison Ivy and a DIFFERENT interviewer. His friends/camera crew approached me, very nicely, and asked for an interview. I agree. Then he turns to the camera and says something to the effect that I MUST be the REAL Poison Ivy because he can't stop itching from last night. So I deadpan it and tell him he must be the Flash's secret identity since he was the fastest man alive last night. They had to stop filming because his friends laughed so hard and he turned bright red. He apologized and I told him he was forgiven if they kept that zing in there. 

Look, we know you're trying to be funny. But TRYING to be funny and ACTUALLY being funny are two different things. You're surrounded by attractive people in skimpy and not skimpy outfits. Most reactions of cosplayers are " :| " to the jokes when they're trying to put on a smile to be friendly.  

Just… don't. Please. 
First off, yes, this is exactly what people need to realize. Second…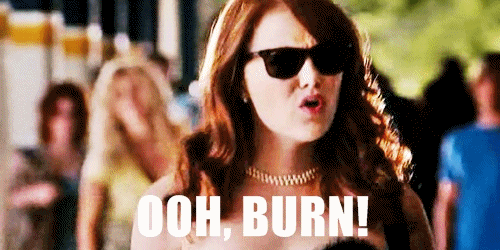 Those were two of the best comebacks ever. I love you.
The best super power ever has to be the power to refill things. Think about it, your glass is empty, refill it without getting up. Your bank account empty, power to refill it. Your bed is empty of a person of your preferred gender, refill it and have some fun.

At first I was all:

Well that's the stupidest thing I ever heard.

But then I was all like:

GENIUS! PURE UNADULTERATED GENIUS!

person annoying you?

refill their bladder
THIS IS THE BEST THING EVER.